About Newborn Photography
As an expert in newborn photography, I am excited that you are considering working with me to capturing your new bundle of joy during this precious time. Most families choose to have their newborn photo session scheduled within two weeks of birth. Newborns two weeks old and younger spend much of their time eating and sleeping, providing the perfect opportunity for photographing a happy sleep baby.
The younger your baby, the easier they are to photograph after a feeding. Sleeping babies are more adapt to the posing and positioning that is ideal for newborn photography.
The first two weeks with your babies life are a special time; its exhaustion, joy, nerves and snuggles. Time move fast and you'll want to remember the kisses, snuggles and the sweet memories of your new baby. Newborn Photography puts all that joy behind the lens of the camera and saves it for you to remember for all time.
No matter if you are looking to capture the beginning moments with your first child or photographing the entire family together for the first time, I am looking forward to capturing the love of your family that you will look back on for years to come.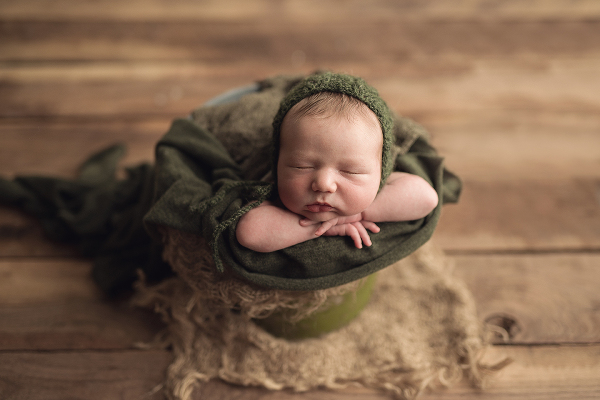 Newborn Photography Explained
Contact me during your second trimester to ensure I can prioritize capturing your newborn photographs during the initial two weeks following birth. This is also the ideal time to schedule maternity photos while you are in the prime of your pregnancy. You will not be booking a specific day, rather this is when you can guarantee that your newborn photography session will take priority in my calendar.
Most baby photography sessions last to 120 – 180 minutes, depending on how well your baby sleeps. I recommend planning for a feeding immediately before you leave your home to ensure that your baby is happy and content throughout the session.
Throughout your session, your baby will be positioned in newborn photography poses best suited to ensure beautiful photos of your little one. As they sleep, babies are more prone to positioning and will be comfortable and warm throughout their baby photography session.
Newborn sessions take place in my Northwest Calgary studio, located near Stone Trail and Harvest Hills Boulevard. I do not offer in-home sessions at this time. As a Calgary newborn photographer, my studio is conveniently located for families to visit without disturbing your new babies sleep and feeding schedule.
If you have any further questions, please email me using the CONTACT page.